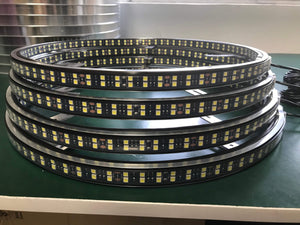 Description
Looking for your next "head turning" mod? Then these are perfect for you. Designed to fit around the brake rotors of your vehicle, BAMFLED Wheel Rings are aluminum strips formed in a circle, creating a ring. Mounted on the ring is High Powered BAMFLEDs. These LEDs will illuminate your wheels and wheel barrels. At night these rings are intense!
THESE ARE TOP OF THE LINE QUALITY, WITH THE BRIGHTNESS AND PURE WHITE COLOR OF OUR FAMOUS PURE WHITE ROCK LIGHTS
 YOU CAN USE THE SAME BLUETOOTH APP TO CONTROL MULTIPLE LIGHTS, AND MULTIPLE SYSTEMS AT A TIME
Product Specs

:
Wheel Ring Diameter: 17"
Mounts to Brake Rotor Dust Shield
Operating Voltage: 12V DC
Vibrantly lights up Wheel Wells
Fits around Brake Rotor
Can withstand high heat temperatures
Universal Fitment
Mounting Hardware
PURE WHITE ONLY ON THIS SET
Bluetooth controller NOT INCLUDED